Sale
Bering Optics HOGSTER Stimulus VR 2.3-4.6x19mm Ultra-Compact Thermal Weapon Sight
Out of Stock (Can be Backordered)
Description
Bering Optics HOGSTER Stimulus VOx 256×192 12 µm Ultra-Compact Thermal Weapon Sight is aimed at the budget-minded hunter who still wants to utilize thermal technology. The sight is exceptionally lightweight, compact and .308 Cal. tested. HOGSTER R™ can be quickly mounted on any type of rifles equipped with Weaver/Picatinny Rails using a quick release QR mounting system, making the set up process quick and easy. Due to the compact nature of the HOGSTER R™,  it can be used as a handheld scanner as well. The new VR model added video recording and WiFi to the entry level thermal.
The scope is nitrogen-purged, is water-, dust- and shock-proof and is action ready in virtually any environment or light conditions including conditions when the environmental obscurants such as smoke, dust, haze, are present. Simple to use, the HOGSTER R™ features an intuitive user-friendly menu to customize settings to the shooter's needs without disengaging from the target, including MIL-Dot and Crosshair reticles along with White, Black and Colored polarization.
Features:
Optimized for medium and long-range engagements
Automatic shatter based thermal VOx core
Precise lens focusing mechanism
Recording
WiFi
Manual control of the Image sharpness and Screen brightness
Switchable image polarity: White Hot / Black Hot / Red Hot / Colored Hot
Ability to save 4 groups of zeroing calibration data
Battery status indicator
Quick-Release Weaver Mount
Rated for use up to .308 Cal.
Power: 3V CR123 (two) or 3.7V rechargeables (two), or external 5V power supply USB port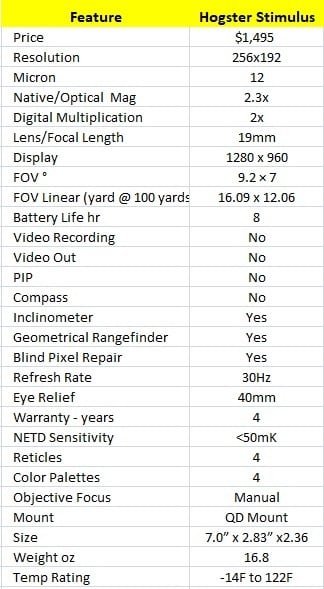 *The chart above says No to Video Recording. The new VR model does include Video Recording and WiFi. 
Differences From Other Hogsters:
No Picture In Picture
Slower Refresh Rate: The stimulus has a 30Hz refresh rate vs 50Hz on the other Bering Thermals. This thermal cannot pan as quickly or as smoothly as the other Hogsters.
Digital Zoom: The Stimulus only has a 2x digital zoom (4.6 total)
"I have tested the Hogster Stimulus from Bering Optics. The image quality doesn't compete with the R25, R35 or Super Hogster but is good in comparison to other options at a similar price point. This is not the thermal for people having animals of similar size and characteristics to distinguish between. However, for the hunter with very evident animal profiles, the Stimulus will allow the hunter to extend their hunting into darkness." Korey Kirschenmann – Prostaff  – Night Goggles
Additional information
| | |
| --- | --- |
| Weight | 2 lbs |
| Dimensions | 12 × 12 × 8 in |