Sale
Bering Optics HOGSTER R 384 1.4-5.6x25mm Ultra-Compact Thermal Weapon Sight
Out of Stock
Email when stock available
Description
***The images shown with the exception of the last two images are Hogster-R 35mm images. From an external appearance standpoint, the only differences are the Germanium Lens Diameter, End Cap, and Base. The specification's table includes functional differences. ***
Bering Optics HOGSTER R™ VOx 384×288 Ultra-Compact Thermal Weapon Sights are aimed at the growing feral swine market. The sight is exceptionally lightweight, compact and .308 Cal. tested. HOGSTER R™ can be quickly mounted on any type of rifles equipped with Weaver/Picatinny Rails using a tactical quick release QR mounting system, making the set up process quick and easy. Due to the compact nature of the HOGSTER R™,  it can be used as a handheld scanner as well.
The HOGSTERs are built with the superb Germanium optics that is paired with an advanced Vanadium Oxide (VOx) thermal core and proprietary electronics. Simple to use, the HOGSTER R™ features an intuitive user-friendly menu to customize settings to the shooter's needs without disengaging from the target, including MIL-Dot and Crosshair reticles along with White, Black and Colored polarization.
The scope is nitrogen-purged, is water-, dust- and shock-proof and is action ready in virtually any environment or light conditions including conditions when the environmental obscurants such as smoke, dust, haze, are present.
Features:
Optimized for medium and long-range engagements
Picture-in Picture function by providing a 2x magnified image at the top of the display
Automatic shatter based thermal VOx core
Precise lens focusing mechanism
Manual control of the Image sharpness and Screen brightness
Switchable image polarity: White Hot / Black Hot / Red Hot / Colored Hot
Ability to save 4 groups of zeroing calibration data
Battery status indicator
Quick-Release Weaver Mount
Rated for use up to .308 Cal.
Recording: Video Output
 Power: 3V CR123 or 3.7V rechargeables (two), or external power supply USB port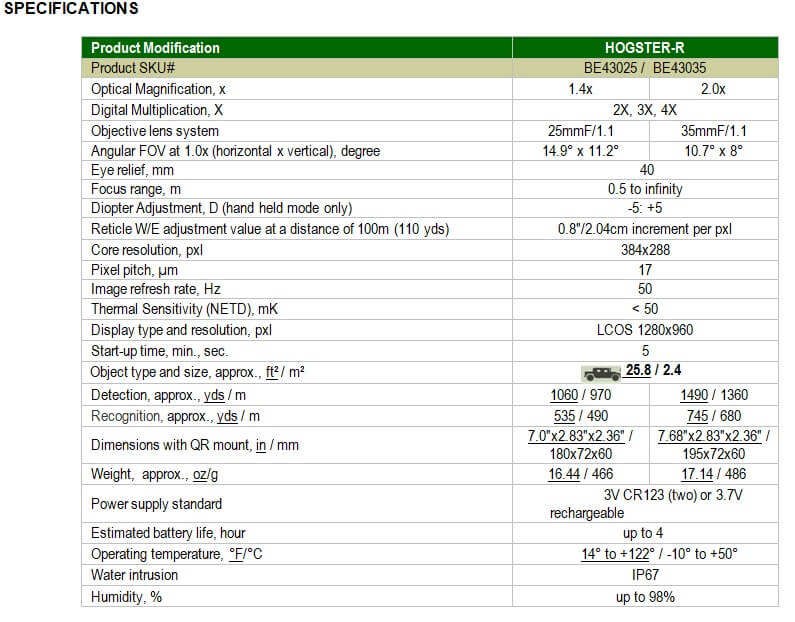 "I did some testing with the Hogster-R 35mm from Bering Optics. The build quality is fantastic, and the picture quality for a 384×288 core is fantastic. Many thermals suffer in high humidity but I tested the Hogster up to nearly 100% and the image quality still was very impressive. For the person looking for a compact thermal scope that is simple to operate, the Hogster R thermals are a fantastic value. Add the fact it could also work as a very effective scanner, and you will see why I bought one myself. " Korey Kirschenmann – Prostaff  – Night Goggles
Additional information
| | |
| --- | --- |
| Weight | 2.2 lbs |
| Dimensions | 12 × 12 × 8 in |