Sale
Bering Optics PHENOM 640×480-35mm Handheld Thermal Monocular
Compact 640 17µm Thermal Scanner
$3,299.00
Out of Stock (Can be Backordered)
Description
Night Goggles is excited to announce the availability of the Phenom scanner from Bering Optics. The Bering Optics PHENOM 640×480-35mm handheld Thermal monocular features a premium, high sensitive Vanadium Oxide (VOx) 640x480pxl 17µm pixel pitch LWIR core with automatic shutter, HD OLED 1280x980pxl display and a 35mm Germanium Lens.
The PHENOM is capable of internal video recording (mp4) as well as capturing still images. The Phenom includes wifi which can connect with Android devices to stream video and view or download recorded content. The Phenom has a generous Field of View of 17° x 13° as well as 4x and 8x digital zoom options. It also includes 4 different background color options.
The PHENOM is capable of detecting heat generated by a vehicle at distances up to 2 miles away in any terrain, twilight or night time conditions. The thermal's exceptional and unmatched performance makes it suitable for many tasks by demanding users in any field including hunting, patrolling, law enforcement, navigation, and rescue operations.
Phenom Specs: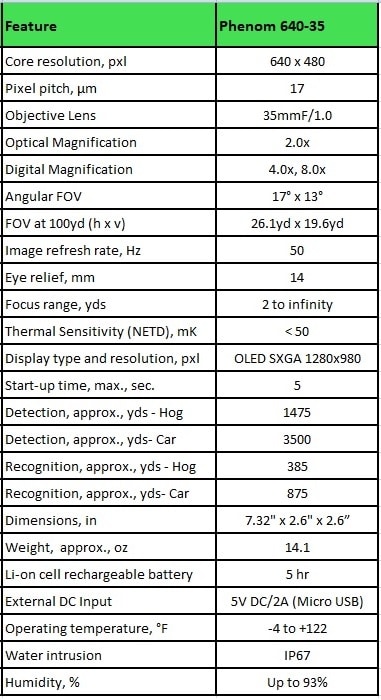 TESTING:
Pro-staff member, Korey Kirschenmann has tested both a pre-release model and a production model of the Phenom. Here is what Korey Kirschenmann had to say about the Bering Optics Phenom.
After the 2nd round of testing, I sold my current scanner and plan to use the Phenom for this hunting season. The generous 17°x 13° Field of View along with the very crisp 640 image makes this a great scanner. Korey Kirschenmann, Night Goggles Prostaff

The comments below reflect the most recent test results from Korey Kirschenmann:
Image:
The Phenom image is outstanding. The 640×480, 17 micron sensor provides a very clear, crisp image. Bering Optics claims a 2-mile detection distance on vehicles and I can attest it was able to detect vehicles even further.
My one piece of feedback for Bering was there was a brightness control but no contrast control. In fairness, the image was fantastic even without this control. Bering has said they have not received any feedback indicating a contrast control is necessary but plans to implement it per Night Goggle's request. This is planned for a future firmware update.
Digital Zoom:
Digital zoom impacts all thermals, but the image didn't deteriorate nearly as rapidly as it does on many 384 thermals including the Hogster 35 and 25.
Battery Life:
The Phenom is powered by an internal battery. I was able to get almost 5 hours if I turned on the Power Save mode. This turns off wifi and recording features. The Phenom also allows the use of an external 5v battery pack. This will charge the internal battery as well as run the Phenom if needed.
To conserve battery, the Phenom also has a Stand By mode.
Recording:
The Phenom allows for Internal recorded video (.mp4) as well as Video Out. Bering Optics chose a high compression rate for the Phenom with file sizes around 6MB per minute of video. My calculations indicate the Phenom could hold up to 20 hours of video. I have suggested Bering decrease the compression rate to get even higher quality video recordings. It is being considered but the video quality is still good considering the high compression.
PIP:
The Phenom does include a PIP window. I rarely use PIP on a scanner, but it is still a nice feature.
Eyepiece:
The eye relief on the Phenom is 14mm. For people who wear glasses, this could be an issue. Overall, the eyepiece was comfortable and blocked out exterior light very well.
Diopter:
I like the diopter adjustment dial on the side of the Phenom. It makes for easy adjustments.
Additional information
| | |
| --- | --- |
| Weight | 1 lbs |
| Dimensions | 12 × 4 × 4 in |